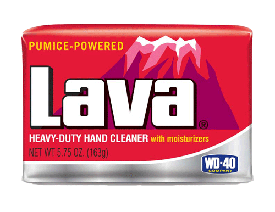 Pumice Soap
Pumice soap cuts through even the toughest grease and grime! The Lava Bar is the original heavy-duty hand cleaner with pumice. Since 1893, do-it-yourselfers, auto mechanics, coal miners, and oil rig workers have depended on the power of Lava pumice hand soap.

When regular hand soaps won't cut it, you need a heavy-duty hand cleaner that gets the job done. With the power of pumice particles, Lava Bar soap scrubs away dirt and grease while leaving your hands feeling smooth.

The Lava Bar is available in a 5.75 oz. bar and 5.75 oz. twin-pack for heavy users.
Lava Soap Ingredients
What is Lava Soap made of? Lava's name was derived from one of its key ingredients: pumice, a by-product of volcanic activity. Our pumice hand soap's powerful particles with other hand cleaning agents gently scrub away grease and exfoliate, leaving your hands clean and moisturized with a subtle scent. Use a little, or use a lot. Whatever the job calls for, Lava Bar pumice soap cleans you up at the end of the day. For the full list of Lava Soap ingredients, visit the link below:
What's In It?
What is Lava Soap Used For?
Lava Soap's pumice cleaning power is used by mechanics, DIYers, professionals, hobbyists,gardeners, and more to quickly break through grease, grime, glue, goop, dirt, tar, oil, sap, paint, and anything that can collect on your hands while working on projects.

Lava Soap Uses

Lava Bar UPC# 0 79567 10085 0